Contact - Trimat Ltd
Narrowboat Way
Hurst Business Park
Brierley Hill West Midlands DY5 1UF
United Kingdom
Latest products added Trimat Ltd
Additional information
Legal information - Trimat Ltd
| | |
| --- | --- |
| Nature | Headquarters |
| Year established | |
| Activity (SIC07) | Manufacture of bearings, gears, gearing and driving elements (28150) |
| Registration no | 02557968 |
| VAT no | GB 547 5659 02 |
| No employees | 20-49 Employees |
Presentation - Trimat Ltd
Specialist manufacturers of industrial and marine brake linings offering first class products and service worldwide.
Trimat is a specialist UK manufacturer of asbestos free friction materials that offers premium quality products and service to a worldwide customer base.
Established in 1962, Trimat produces a broad range of friction products that are used on an expansive range of brake and clutch applications. Recognised for their high quality and performance, Trimat brake and clutch linings are the natural choice for original equipment manufacturers and replacement spares.
From our modern manufacturing facility in the heart of the UK, we produce woven, extruded, moulded and pressed friction materials. All aspects of production from raw materials to the finished brake and clutch parts are controlled by our quality management system, which is accredited to BS EN ISO 9001:2008.
Trimat materials can be used by the following industries: Agricultural, Domestic Appliance, Marine, Aerospace, Power & Transmission, Oil & Gas, On/Off Highway, Construction, Wind Energy, Lifting, Elevator.
Research and development is an integral part of the Trimat business model. Collaborating closely with OEM clients, Trimat is actively involved in the design, development and upgrading of brake and clutch systems.
More Information on our Products
Industrial Brake Linings
Organic Friction Materials
Marine Brake Linings
Disc Brake Pads
Clutch Linings
Friction Discs and Rings
Flexible brake linings
Rigid brake linings
Woven brake linings
Asbestos free brake linings
Non asbestos friction materials
Services Offered
Friction Material mixing
Bonding
Pressing
Machining
General Information - Trimat Ltd
Certifications
| | |
| --- | --- |
| | Lloyd's Register Quality Assurance Ltd |
Banks
National Westminster Bank Plc
Export area
Asia-Pacific, Central Asia, Middle East, Africa, Central/East Europe, West. Europe, North America, Central America, South America
Brands - Trimat Ltd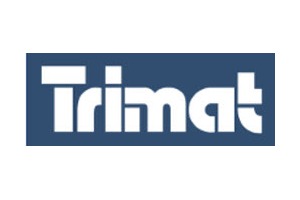 Trimat
brake linings for industry
Mr D. James
Commercial Director/Manager
Mr D. Taylor
MD/Chief Operating Officer (Managing Director)
Participation - Trimat Ltd
Activities - Trimat Ltd
Producer
Distributor
Service providers
Other classifications (for some countries)
SIC (GB 2007) : Manufacture of bearings, gears, gearing and driving elements (28150)
NACE Rev.2 (EU 2008) : Manufacture of bearings, gears, gearing and driving elements (2815)
ISIC 4 (WORLD) : Manufacture of bearings, gears, gearing and driving elements (2814)