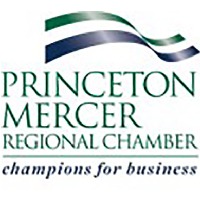 Princeton Mercer Regional Chamber
Champions for business
Contact - Princeton Mercer Regional Chamber
600 Alexander Road, Suite 3-2
Princeton 08542
United States
Send a message - Princeton Mercer Regional Chamber
Legal information - Princeton Mercer Regional Chamber
| | |
| --- | --- |
| Nature | Head Office |
| Year established | |
| Describe your Company and attract Business opportunities (NAI12) | Business Associations (813910) |
| No employees | 0-9 Employees |
| Kompass ID? | US950314 |
| Kompass member for | + 1 years |
| Membership | Booster |
Presentation - Princeton Mercer Regional Chamber
VISION STATEMENT
The Princeton Mercer Regional Chamber will be viewed by our Members as indispensable to their success; acknowledged by civic leaders, government officials and the media as the authoritative voice of the Princeton Area business community; and recognized by the public as an effective catalyst for improving the quality of life for those who visit, work, and live in the greater Princeton Area.
MISSION
The Mission of the Princeton Mercer Regional Chamber is to:
Serve our Members – with opportunities to meet and do business with other Members and with resources to enhance their success
Speak for Business – with a collective voice on public policy issues affecting business and our communities.
Promote an environment for business growth – by encouraging economic development efforts that strengthen the Princeton Area's reputation and by enhancing the quality of life in the communities we serve.
As an organization we are committed to excellence in all aspects of our operations. Led by the Chamber's Board of community leaders with support from a professional staff, we will ensure that the skills, talents and interests of our Members are effectively utilized and supported and that everyone's experience with the Chamber is positive and productive.
CORE VALUES
We value our clients. We strive each day to earn the respect of our members and to meet their needs.
We value our staff. They are our most important resource. We encourage, reward and motivate them every day.
We value integrity. We adhere to the highest of ethical standards.
We value diversity. We respect the variety of people, businesses and ideas in our community and consider this diversity to be an advantage.
We value both innovation and tradition. As a proactive and forward-thinking organization, we create meaningful programs that add value to meet the needs of an ever-changing world. We embrace the possibilities of the future while preserving our region's rich history.
We value our Board of Directors. They lead us with their integrity, their knowledge and their excellence.
Company catalogues - Princeton Mercer Regional Chamber
News - Princeton Mercer Regional Chamber
Participate in an event
Join the Chamber for the October 2020 events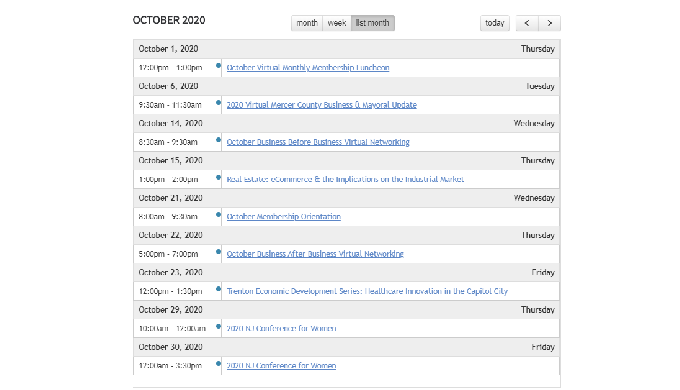 Date: October 1, 2020 4:00 AM
End: November 1, 2020 3:59 AM
Location: https://web.princetonmercerchamber.org/events/newcalendar.aspx
Throughout the year the Chamber offers tremendous business building opportunities. This begins with the Chamber's three core monthly networking events: the Business Before Business Networking Breakfast; the Monthly Membership Luncheon; and the Business After Business Networking Event.
MONTHLY MEMBERSHIP LUNCHEON MEETINGS
Typically held on the first Thursday of each month, the Chamber invites a renowned speaker to address the Chamber Membership on a wide variety of timely topics from local, regional, statewide, national and global interest. These well attended Luncheon Meetings are held at the Princeton Marriott at Forrestal Center beginning with a very active networking reception at 11:30 am, followed by a buffet lunch and ending at 1:30pm. Cost to attend is $50 for Chamber Members and $75 for Future Members. Reservations are highly suggested by calling 609-924-1776 or you can
register online
.
BUSINESS BEFORE BUSINESS BREAKFAST MEETINGS
The Business Before Business Breakfast Meetings are the perfect way to start your day! Join the Chamber for some early morning networking and learn ways to address the day-to-day challenges that businesses face. You're sure to pick up a valuable tip or two that you can take back with you to the office to improve your bottom line. The Breakfast Meetings are typically held on the third Wednesday of each month beginning with time for networking from 7:30am to 8:00am followed by a breakfast buffet. The program runs from 8:00am to 9:30am. Cost to attend is $25 for PMRC Members and $40 for Future Members. Reservations are highly suggested by calling 609-924-1776 or you can
register online
.
BUSINESS AFTER BUSINESS NETWORKING
Make great business contacts and enjoy delicious refreshments at the Business After Business Networking events hosted by Chamber Member establishments. Join your Chamber friends and colleagues, meet people and make new contacts! These evening networking events are extremely popular and are typically held towards the end of the month from 5:00pm to 7:00pm. Food, great atmosphere, open bar and amazing contacts are always abundant regardless of the Member host. Remember to bring plenty of business cards! Cost to attend is $25 for PMRC Members and $60 for Future Members. Reservations are highly suggested by calling 609-924-1776 or you can
register online
.
At our Chamber Events we make it easy for our Members to get to know people and we make it easy for your prospects to get to know you!
Register now
for the next Chamber event!
All reservations are guaranteed. All cancellations must be made through the Chamber office at least 24 hours in advance or the full price will be charged.
New service
A comprehensive list of open businesses in the Princeton-Mercer region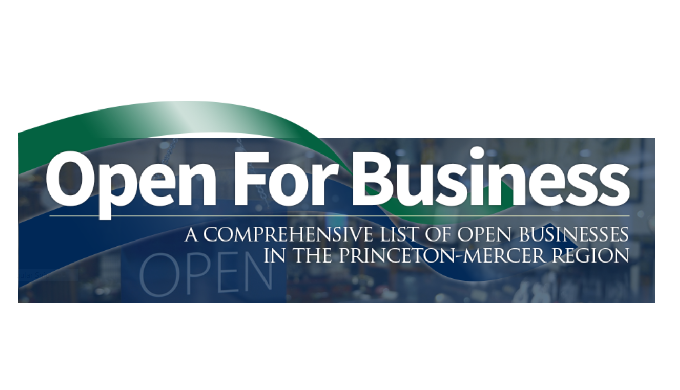 Date: August 31, 2020 4:00 AM
Location - Princeton Mercer Regional Chamber
Opening hours - Princeton Mercer Regional Chamber
Activities - Princeton Mercer Regional Chamber
Producer
Distributor
Service provider
Main activities within the Kompass classification
Other classifications (for some countries)
NAICS (US 2012) : Business Associations (813910)
SIC (US 1987) : Amusement and Recreation Services, Not Elsewhere Classified (7999)
Secondary activities within the Kompass classification