New product
Winmate Launches M116 Series 11.6" Windows Rugged Tablets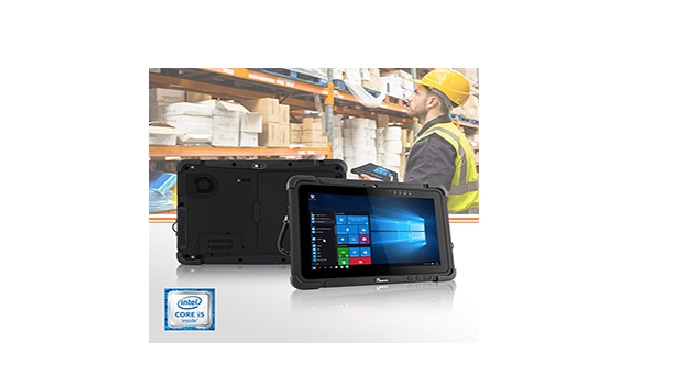 Start date: April 15, 2022 4:00 AM
End date: April 11, 2025 3:09 AM
M116 x86 Rugged Tablet Series
Winmate unveils the
M116 Rugged Tablet Series
, containing three models-
M116P
,
M116PT
, and
M116K
- with varying processor, appearance or default data capture method configurations. These Windows-based Rugged Tablets redefine rugged enterprise mobility thanks to the powerful CPU, ruggedized enclosure, the latest mobility solutions and the large 11.6" widescreen display in a lightweight form factor. Every inch and detail of the
M116 Series
is engineered to optimize the efficiency of Smart Warehouse and Logistics, Field Service, Public Safety, and various transportation or industrial manufacturing applications. Highlights of the new line-up:
Intel® Pentium® N4200/Intel® Core™ i5-7200U CPU (Optional Intel® Core™ i5-7300U)
The
M116P
and
M116PT
ship with Intel® Pentium® N4200 processor for users that are looking for power-efficient, yet decent computing performance. The
M116K
, on the other hand, includes the powerful Intel® Core™ i5-7200U processor, with configuration for Intel® Core™ i5-7300U available, to deliver an amazing level of CPU performance.
Large 11.6" 1920 x 1080 PCAP Touchscreen with Optical Bonding
To maximize the readability and efficiency of professional mobile filed workers, the
M116 Series
features a large 11.6" 1920 x 1080 Full HD widescreen with the user-friendly touch experience enhanced by PCAP multi-touch solution and the excellent readability in humid outdoor environments delivered by optical bonding technology.
Hot-Swappable Battery for Uninterrupted Battery Life
Stay all day productive with the hot-swappable battery design. Such design ensures that the device has no down time, boosting productivity and reducing the overall cost.
Full IP65 & MIL-STD-810G Certified
The
M116 Series
is full IP65 rated, meaning the devices are resistant to water and dust. With the MIL-STD-810G certification, they withstand accidental drops, shocks, falls and vibrations in the harshest work environments.
Wi-Fi, 4G LTE, Bluetooth and GPS Wireless Connectivity
With M116's support for WLAN, WWAN, Bluetooth, GPS and GLONASS, the field workers can access or exchange data in real-time, independently performing process procedures and initiate or execute work orders while in the process area.
Versatile Data Collection Methods
In terms of data collection capability, the
M116 Series
features a reasonably competent front camera and rear camera. The
M116P
and
M116K
can be configured with 1D/2D Barcode Reader, Smart Card Reader and HF/UHF RFID Reader depending on different usage scenarios. The
M116PT
comes as standard with a Smart Card Reader, yet with other data capture methods configurable.
Founded in 1996,
Winmate Inc.
provides rugged computing devices, Industrial Displays, and embedded solutions for industries operating in challenging environments. Its headquarters in Taipei, Taiwan, has research development facilities and production lines. Today,
Winmate
operates globally with offices and service centers worldwide. Winmate's rugged industrial-grade computing solutions drive the advances in Industrial Internet-of-Things (IoT). Its solutions, such as Industrial displays, Panel PCs, Embedded systems, Rugged tablets, Handheld devices, etc., are being adopted by many industries such as Transportation, Marine, Military, Railway, Oil & Gas, Healthcare, and Field services.
Winmate
also provides product customization and project management services to suit unique customer needs.
For more information, visit
www.winmate.com
.