Contact - JULABO GmbH
Gerhard-Juchheim-Strasse 1
77960 Seelbach
Germany
Latest products added JULABO GmbH
Additional information
Legal information - JULABO GmbH
| | |
| --- | --- |
| Nature | Headquarters |
| Year established | 1967 |
| Legal form | Gesellschaft mit beschränkter Haftung |
| Activity (NAC08) | Manufacture of instruments and appliances for measuring, testing and navigation (2651) |
| Handelsregister | Freiburg/Breisgau HRB 390515 |
| VAT no | DE811209079 |
| No employees | 400 Employees |
Presentation - JULABO GmbH
Since its founding in 1967 JULABO has consistently set new standards for high-performance and reliable temperature control systems. Today JULABO is an industry leader. We have played a significant role in the development of fluid-based temperature control. Our expert engineers and technicians help shape the market with new ideas and innovations. This experience and know-how allows us to continuously improve JULABO products as needs evolve. JULABO is where the future of temperature control becomes reality.
Company catalogues - JULABO GmbH
Company's Videos - JULABO GmbH
General Information - JULABO GmbH
Certifications
| | |
| --- | --- |
| Type: | ISO 14001:2004 |
| Type: | ISO 9001:2008 |
Herr Markus Juchheim
CEO - Chief Executive Officer (Geschäftsführung)
Herr Schelb Steffen
Sales Director/Manager (Verkaufsleitung (Deutschland, Österreich))
Herr Hubert Kirsch
Sales Director/Manager (Verkaufsleitung (International))
Herr Steffen Schelb
Sales Director/Manager (Verkaufsleitung (International))
Herr Igor Zubko
Sales Director/Manager (Gebietsverkaufsleitung)
Herr Mark Bitterwolf
MD/Chief Operating Officer (Director Marketing & Sales)
Herr Ralf Wurth
HR Director/Manager (Personalleitung)
Herr Klaus Maier
Technical Director/Manager (Leitung Technischer Service)
News - JULABO GmbH
Other
Lifetime Business Achievement Medal of Honor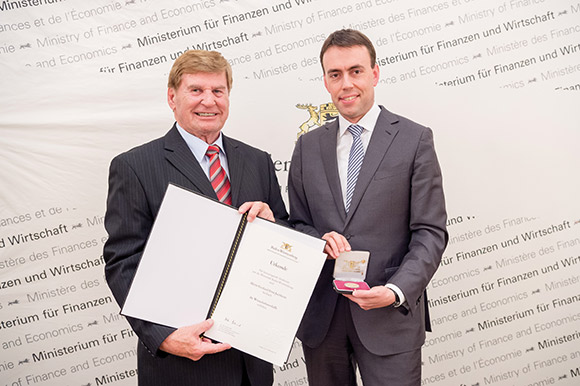 Date: January 28, 2016 12:00 AM
As part of the annual awards ceremony for the Lifetime Business Achievement Medal of Honor event, the Secretary of State for Trade and Industry Nils Shmid presented Gerhard Juchheim with the Lifetime Business Achievement Medal of Honor for 2015 from the state of Baden-Württemberg. Since 1978 this award has been bestowed on leaders and companies for their outstanding professional and entrepreneurial achievements. Gerhard Juchheim was honored for his lifetime business contribution in Baden-Württemberg by Mr. Schmid in the famous marble ballroom of the Neuen Schloss (New Castle) in Stuttgart. It was an honor not only for Gerhard Juchheim but also for the long-standing historical tradition of this family company. The success story began in former Eastern Germany (DDR), where Gerhard Juchheim´s father Ernst Juchheim invented the first glass contact thermometer and later registered it in 1926. Ernst Juchheim´s big breakthrough came along after his second patent in 1936. In 1952, at 50 years old, Ernst Juchheim fled East Germany, leaving behind the company and all the family assets he works so hard to build. After brining over his family via West Berlin, he started anew in Solingen with Heju GmbH which would later be called JUCHHEIM KG. At the young age of 19 and directly after his apprenticeship, Gerhard Juchheim started working in the family company and successfully improved and expanded it. During that time, he developed his own vision to create and produce his own laboratory thermostats and slowly realized that Solingen was not the right place to accomplish this goal. So in 1967 with a lot of entrepreneurial courage, Mr. Juchheim decided to move and set-up a new company in the small Black Forest town of Seelbach which would be called Juchheim Labortechnik KG. With this move, his vision became a reality. The number of employees grew from year to year and the economic setbacks only motivated Mr. Juchheim to develop more innovative thermostats. In 1980, the company took over the brand name JULABO as a part of the registered company name JULABO Labortechnik GmbH. Early on, JULABO implemented electronics in its machines and established itself as a leader in the temperature technology industry worldwide. In 2010, the company introduced professional culinary temperature technology under the sous vide brand fusionchef by Julabo. Mr. Juchheim´s company continues to successfully grow today with more than 400 employees worldwide and over 300 at the headquarters in Seelbach alone. Gerhard Juchheim is honored to accept this recognition for his lifetime achievement which he has successfully handed over to his two sons Markus and Ralph Juchheim. Seelbach´s Mayor Thomas Schäfer, as well as Markus and Jennifer Juchheim joined Mr. Juchheim in Stuttgart to accept his much deserved award.
Location - JULABO GmbH
Other addresses
Visit address
Gerhard-Juchheim-Strasse 1
77960 Seelbach
Germany
Legal address
Gerhard-Juchheim-Strasse 1
77960 Seelbach
Germany
Activities - JULABO GmbH
Producer
Distributor
Service provider
Main activities within the Kompass classification
Other classifications (for some countries)
NACE Rev.2 (EU 2008) : Manufacture of instruments and appliances for measuring, testing and navigation (2651)
ISIC 4 (WORLD) : Manufacture of measuring, testing, navigating and control equipment (2651)
Secondary activities within the Kompass classification