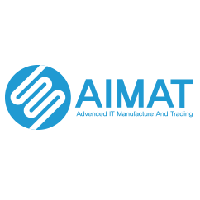 AIMAT co.,Ltd.
Leading quality companies based on creativity and innovation
Contact - AIMAT co.,Ltd.
147, Pyeongdong-ro 803beon-gil
Gwangsan-gu 62413
South Korea
Send a message - AIMAT co.,Ltd.
Legal information - AIMAT co.,Ltd.
| | |
| --- | --- |
| Nature | Head Office |
| Year established | 2012 |
| Describe your Company and attract Business opportunities | |
| Co.Registration No | 410-86-67158 |
| No employees (address) | 7 Employees |
| No employees | 8 Employees |
| Kompass ID? | KR106083 |
| Kompass member for | + 2 years |
| Membership | Booster International |
Presentation - AIMAT co.,Ltd.
auto wrapping machine, auto trash can, multi-functional trash can, trash wrapping machine, private antimicrobial wrap, convenience of dirty waste disposal, odor and hygiene management, home protective film, industrial protective film, optical protective film
AIMAT is always striving to maintain the highest quality products based on creative thinking and innovative process improvement. Breathe with our customers, ensure the reliability of our products and technologies, listen to our customers' requirements, We will make high-value-added products based on our accumulated know-how and accumulated research and development efforts to become a win-win AIMAT.
Mission: "Leading to the highest quality based on creation and innovation"
Vision: Brand GLOBAL Jiangsu Enterprise with communication and convergence
Strategy
- Financial perspective: balance of profitability and stability Performance management system
- Customer Perspective: One Stop Service Quality of Customer Satisfaction
- Process Perspective: Dedicated professional history by function, modularization function
- Learning and Growth Perspective: Building and Utilizing Knowledge Management System Introduction of New Technology Benchmarking of Advanced Institutions
#Catalogue
https://prokcssmedia.blob.core.windows.net/sys-master-images/h88/h86/9468249899038/aimat.pdf
Company catalogues - AIMAT co.,Ltd.

Catalogue (English)
8 pages

Aimat_Film_Brochure (English)
6 pages
Catalogue-1 (English)
12 pages
General Information - AIMAT co.,Ltd.
Export area
Asia-Pacific
Viet Nam
Byung Su Kang
CEO - Chief Executive Officer
Location - AIMAT co.,Ltd.
Opening hours - AIMAT co.,Ltd.
Key figures - AIMAT co.,Ltd.
Activities - AIMAT co.,Ltd.
Producer
Distributor
Service provider
Main activities within the Kompass classification
Secondary activities within the Kompass classification